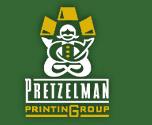 From the introduction to the performance and even the final bow, presentation is everything. You have only an instant to connect with your audience, enchant and inspire them. That's a lot of pressure on a brochure. And a lot of pressure on anyone involved with print design and procurement.

But Pretzelman Printing Group can ease the burden, guiding your project safely and surely through the entire process, from concept to completion. With impeccably produced presentation and marketing materials, your image will shine brighter than ever beforeÖ and linger long after the spotlight has faded.

Time is fleeting. But first impressions last forever.